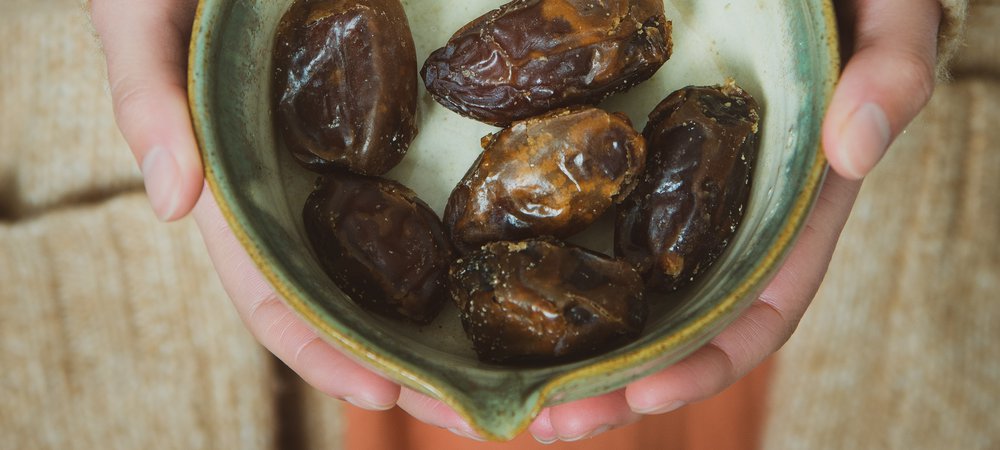 An Ode to Dates (and bonus recipe)
If you are or have ever been pregnant, chances are someone has suggested you eat dates, as these are believed to benefit birth. This could just be an old wives' tale, except that there are at least four studies supporting the benefits of eating dates in late pregnancy (more on this later).
Dates have been around as part of human agriculture and diet for a very long time. Fossils have been found that suggest dates have been around for 50 million years! They are believed to be the oldest agriculturally grown fruit, and it's considered they've been part of Middle Eastern diet for at least 6,000 years. We're not sure about the exact origin of dates, though it is generally assumed that they were first grown in Egypt and Mesopotamia.
Because of their sugary content, they've been used throughout history for various uses including syrups, wine and vinegar. Some even believe that just 15 small dates per day are enough for a human to survive on (though you may get sick of them pretty quickly if you try this…)
As far as traditions and myths go, in Morocco they were once reserved only for Royalty and their guests, and in Oman a date tree was planted following the birth of a son – the intention being that that date tree would one day provide sustenance for his family. Furthermore, in Islamic tradition, it is believed that the date tree is the tree of life in the Garden of Eden.
Dates in Pregnancy and Birth
With such a long and rich history, what do dates bring to pregnancy and birth?
Research suggests that dates, when eaten from as early as 36 weeks onwards, could contribute to various positive birth outcomes, including:
Increased likelihood of having a spontaneous labour
Increased cervical dilation and ripening at the time of admission to the chosen place of birth (assuming birthing people accept an internal examination, which not everyone will want or feel comfortable with, of course)
Increased likelihood of intact membranes
Decreased likelihood of having an augmented labour with syntocinon or prostin
Shorter labour
Decreased likelihood of postpartum haemorrhage
Okay, but how many dates and when?
Dates are safe to eat at any stage of pregnancy, but the studies above were based on consuming dates from 36 or 37 weeks onwards.
It's worth noting that dates are high on natural sugars, so you may wish to limit the amount of dates in early pregnancy.
As for how many, it depends on the type of dates. If we're talking about medjool dates (larger), then the general rule of thumb based on the studies above is 3 per day from 36 weeks onwards. If we're talking about smaller dates, like deglet noor, then you can increase that amount to 6 per day.
Any ideas on how to eat them?
If you start eating 3 or 6 dates (depending on size) from 36 onwards, you might get tired of them pretty quickly, so creativity is your friend in this. Here are just a few ideas on how you can include dates in your diet:
Chop them roughly and add them to your morning porridge or breakfast cereal
Add them to smoothies
Add them to salads
Bake them into cakes, flapjacks, crumbles, etc. – you can find a recipe for a vegan date cake below.
I hope this gives you an idea of why dates are often suggested to pregnant women, and some ideas on how to eat them (should you feel this is right for you) 😊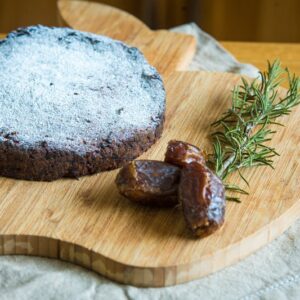 Vegan and Gluten-free Date Cake
A simple vegan and gluten-free date cake, perfect for late pregnancy.
Equipment
1 6.5 inches round cake tin
Ingredients
250

g

organic pitted dates

60

g

walnuts

60

g

blanched almonds

4

"flax eggs"

2

tsp

ground cinnamon

1

tsp

vanilla extract

1

tsp

baking powder

5

drops

lemon juice
Instructions
Pre-heat the oven to 165 degrees Celsius. Line and grease a 6.5 inches round cake tin.

Prepare your flax eggs (you can find a recipe here - https://minimalistbaker.com/how-to-make-a-flax-egg/)

In a blender, finely chop the dates, walnuts and almonds together.

Add the flax eggs, cinnamon, vanilla extract, baking powder and lemon juice to the date and nuts, mix, and combine well until you get a thick batter.

Pour the batter into the cake tin and spread it evenly.

Bake in the oven for 35-40 min.