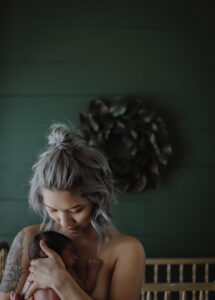 Your baby's here! What wonderful and beautiful news! This is an exciting moment in your life, but it can also be a trying time as you and your baby will be learning your new rhythms and shared world, all whilst you recover and integrate your birth.
As such, I'll be there to provide help with feeding baby, and also in keeping you nourished by providing you home-cooked meals. I'm also happy to look after older siblings, help with some light housework, and look after your baby as you try to catch some sleep, have a moment to yourself or simply have a shower.
I'll share with you information and resources that might be relevant to you, empowering you in your first steps as a parent, while ensuring your new family is comfortable and cared for.
I will also sit and offer you the space and a listening ear as you process your birth story and all the emotions that come with postpartum. And I can also answer any questions or doubts that might cross your mind and heart.
See below for different ways in which I can support you in the postpartum period.
Regardless of whether or not I'm your birth doula, I'm always happy to support you and your baby in those first few weeks (or months). Postnatal support may include (but it's not limited to):
Debriefing your birth story
Cooking and baking for you and your family
Watching over your baby while you get some sleep, have a shower, go for a walk, etc.
Looking after older siblings
Signposting to useful information and resources
Minimum duration per visit is 2 hours
After your birth you may feel like you want to chat it through with somebody who will listen and understand. It's important to create space to process and digest such a momentous experience in your life, and I'm here to hold that space for you.
I will listen as you piece together and unfold your birth story, supporting you in processing any feelings and emotions that may arise, and without judgement.
This can be for you the mother/birthing parent only, for your birth partner only, and/or for the couple together.
These sessions can be in person or online.